20 Foot Round Tapered Steel Light Pole, 5.9 Inch Diameter, 11 Gauge (Above Ground) RTS-20-59-11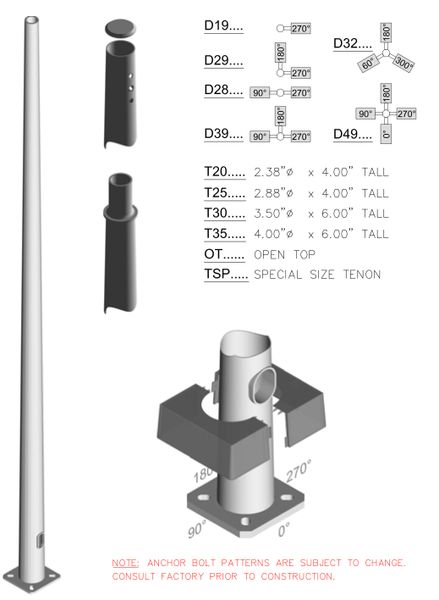 20 Foot Round Tapered Steel Light Pole, 5.9 Inch Diameter, 11 Gauge (Above Ground) RTS-20-59-11
Please call to verify lead times and current stock. 
---
POLE SHAFT: The pole shall be a one section design conforming to ASTM A595 Grade A or ASTM A572 Grade 55 with a constant taper rate of .14 in/ft. Pole will be cylindrical in cross-section and will have a full length longitudinal weld.
BASE PLATE: The base plate is fabricated from a structural quality hot rolles carbon steel plate that meets or exceeds ASTM A-36 with a minimum yield strength of 36,000 psi. The base plate telescopes the pole shaft and is circumferential welded top and bottom
BASE COVER: The two-piece standard full base cover is fabricated from ABS plastic. Optional two-piece steel base cover also available.
ANCHOR BOLTS: Anchor bolts conform to ASTM F1554 Grade 55 and are provided with two hex nuts and flat washers. Bolts have an "L" bend on one end and are galvanized minimum of 12" on the  threaded end in accordance with  ASTM A-153.
HANDHOLE: A reinforced hand hole, having a nominal opening of 3"x5" or 4"x6.5" will be installed 18" above the base plate. A hand hole cover with hardware will be included along with grounding provisions.
POLE TOP: Each pole will be provided with a welded top plate and tenon or top cap for poles receiving drilling for side mount fixtures.
FINISH: Standard color finishes shall be coated with TGIC polyester powder or hot dip galvanized to ASTM A-123 specifications.
Download Spec Sheet
| | | | | |
| --- | --- | --- | --- | --- |
| Cut Sheet | (RTS) Round Tapered Anchor Base | | | |
Reviews