4ft X 8ft Double Sided Pantronic Displays 10mm PTR Elite LED Message Center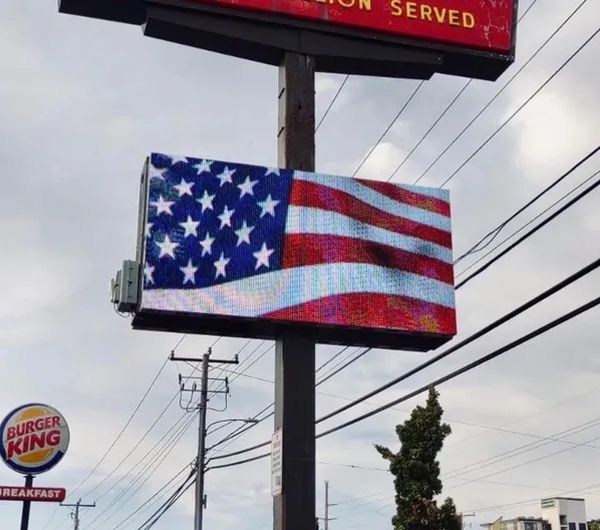 4ft X 8ft Double Sided Pantronic Displays 10mm PTR Elite LED Message Center




Innovative Cloud Software. 
Take Charge of your Advertising Anywhere, 
Anytime. 
Introducing the New Cloud Based, One-Stop Solution Package for Your LED Digital Advertising
10mm Full Color LED Sign Key Advantages:
1) FRONT LED Modular Access for Easy Maintenance
2) High Resolution 10MM Full Color Outdoor and Indoor Use
3) Outdoor Weather Poof – Hi Efficiency – High Gray Scale
4) Easy to Use Software for Content Creation
5) Upload Your Own Images, Videos and Messaging
6) Easy to assemble in 4ft. x 4ft Light Weight Protection IP68 Aluminum Cabinets 67lbs. each
7) Available Automatic Schedule Dimming Via the Software
8) Adjustable Message Display Speed, Timer On/ Off and Real Time Clock & Date
9) Ultra-Brightness 10,000 Nits Full Color Energy Efficient
10) LED Modular is Completely Sealed. No Circuit Board is Exposed to the Elements thus Longer Longevity
11) High Contrast – High Refresh Rate – Light Weight  Ultra-thin – Energy Saving
Included Options:
1) CAD and or Schematic Drawing Available Upon Request for Local Government Permitting
2) TB3 Novastar Multimedia Processor
3) ABS Weatherproof NEMA Enclosure Box for the TB3 Multimedia Processor
4) Nationwide Insured Shipping
5) Unlimited Live Technical Support Including TeamViewer Support
6) LED Software and User Manual including Tutorial videos
7) Installing the multimedia player in the vented ABS weatherproof NEMA Enclosure w/ Cooling and Box
8) 10 Year Guaranteed Parts – 5 Year All Parts in House Warranty


Customizable:
We have the ability to customize your sign to be as large or small as you need.
Wifi Enabled
Available Cloud control to change content from anywhere in the world, or it can be controlled via wifi. 
On-Board Diagnostics
Our software allows you to diagnose your sign's performance for easy maintenance and troubleshooting.


MANAGE MULTIPLE LED DISPLAYS FROM ONE COMPUTER = POWERFUL C
ONTENT SCHEDULING
SIM Card & Cloud Management
Looking for global accessibility on the move? Need to handle multiple LED displays? Our 4G module, combined with a T-Mobile SIM card and cloud-based management system, is the perfect solution for you! Effortlessly control numerous LED displays from a single or multiple computers. Simply inquire with us for more details. to be world-wide on the go? Have multiple LED displays to manage? Our 4G module along with a T-Mobile SIM card and cloud management controlling is for you! Manage multiple LED displays from one or multiple computers, just ask us how.


PC Computer
Experience unprecedented ease and efficiency when it comes to scheduling your LED display content! By connecting your LED sign to the building's network via WiFi, you can effortlessly control and manage it using your PC within the network environment. Say goodbye to complexity and hello to seamless LED sign control through your network!


iPad
Easily schedule your LED display on the fly using your iPad's WiFi connection and the LED sign's WiFi network. Stay in control and manage your LED display effortlessly while on the Go!


iPhone & Android Based Mobile Phone
Experience the power to take control right in the palm of your hand with our controller. Seamlessly schedule your LED display using your iPhone or Android device, granting you the freedom to manage it effortlessly. Embrace the convenience and flexibility of managing your LED display with ease, all from your mobile device!
Download the Brochure.pdf
Reviews