P-LED Qwik Stik T12 LED Sign Retrofit Kit (4 Sided) (Principal LED)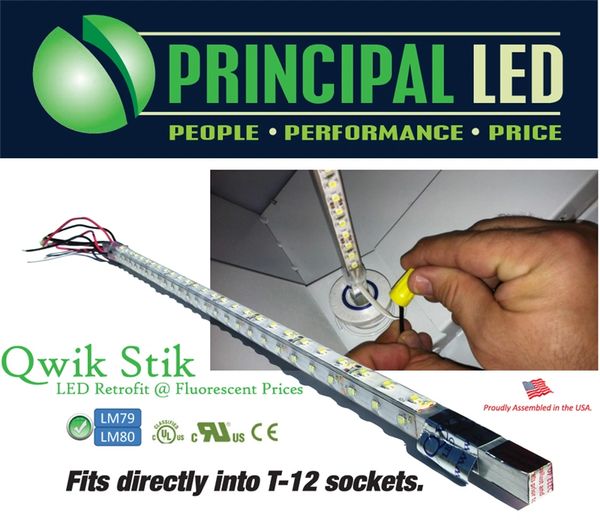 P-LED Qwik Stik T12 LED Sign Retrofit Kit (4 Sided) (Principal LED)
Overview

Finally - A cabinet system designed to cost effectively replace fluorescent lamps! Qwik Stik is available STOCK in single, double and four-sided shallow 360 options, in EVERY lamp size from 18-120" and 3 colors of white. Because we assemble Qwik Stik in the USA, we can make any custom size, color, or density configuration. All Qwik Stiks operate at 12V DC - so there is only a need for one type of power supply.

Qwik Stik fits into existing HO T12 lamp sockets or can be used with our easy to install mounting hardware for new sign construction. Available in ALL standard lamp sizes!

Highlights
Pre-assembled and ready to install
Available in all lamp sizes from 18"-120"
Available in cool white, daylight white, and warm
white CCTs
Exceeds the output of standard T-12 lamps to the
sign face
UV stabilized jacket for water resistance (IP66)
50-70% energy savings over T-12 lit signs
Passes LM80 standards at 55 and 80°!
Reviews