Paclights F2SB150 150 Watt LED Area Light Fixture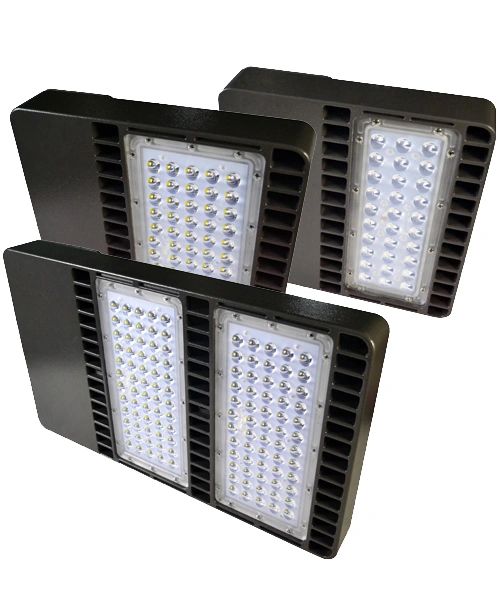 Paclights F2SB150 150 Watt LED Area Light Fixture
Description:


Paclights 150 watt LED area light fixture is an energy efficient replacement for 400W HID fixtures and can save 60-70% in energy while delivering 14,825 lumens. It is DLC listed and eligible for utility rebates with a long 100,000 hour lifespan and maintenance free operation. Save energy by switching to LED technology with this high quality area light fixture ideal in applications including parking areas, working areas, street and security lighting.

Features:
• Multiple Mounting Options
• Heavy Duty Slim Design
• Reliable Extended Lifespan Meanwell Driver
• High Performance LEDs
• IP65 for Dust or Water
• Effective Thermal Management
• Easy Installation
• Maintenance Free
• Long Lifespan

Qualifications:
• ETL Listing: Suitable for wet locations.
• IESNA LM-79 & LM-80 Testing: PacLights LED luminaries have been tested by an independent laboratory in accordance with IESNA LM-79 and LM-80.
• Full Cutoff: This product is a full cutoff, fully shielded luminaire.
• DLC Qualification: Selected models of this product are on the Design Lights Consortium (DLC) Qualified Products List and are eligible for rebates from DLC Member Utilities. To view the DLC qualified products, please consult the DLC Qualified Products List at www.designlights.org/qpl.
• Warranty: PacLights warrants these LED products will be free from defects in materials and workmanship for a period of five (5) years from the date of delivery to the end user, including coverage of light output, color stability, driver performance and fixture finish. Please refer to our full warranty.

Construction:
• IES Classification: The Type III distribution is ideal for roadway general parking and other area lighting applications where a larger pool of lighting is required. It is intended to be located near the side of the area, allowing the light to project outward and fill the area. Optional Lens for Type II or Type V distribution.
• IP Rating: Ingress Protection rating of IP65 for dust and water.
• Ambient Temperature: Suitable for use in 45°C (113°F) ambient temperatures.
• Cold Weather Starting: The minimum starting temperature is -40°F/-40°C.
• Thermal Management: Superior thermal management with external Air-Flow fins.
• Housing: Die-cast aluminum housing.
• Mounting: Heavy-duty mounting options available, with seal & stainless steel screws
• Lens: Polycarbonate.
• Gaskets: High-temperature silicone gaskets.
• Finish: Our environmentally friendly polyester powder coatings are formulated for high-durability and long lasting color, and contains no VOC or toxic heavy metals.
• Green Technology: Mercury and UV free, and RoHS compliant. Polyester powder coat finish formulated without the use of VOC or toxic heavy metals.
Reviews