Single tenon for 5" square pole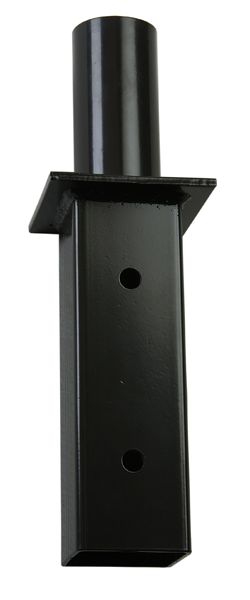 Single tenon for 5" square pole
Square Pole Vertical Tenon Mounting Bracket Single Tenon
Internal Steel Pole Top Mount to Tenon Adapter
Slips into 5" Square Metal Pole | Dark Bronze Finish
---
Description: Square Pole to Tenon Mounting Bracket Internal Pole Top Mount

For use with floodlights, sports lights or mounting brackets equipped with a 2 3/8" slipfitter bracket.

Steel Tenon Mount Bracket with Dark Bronze Finish
Base O.D.: 5 Inches
Mount Style: Vertical
Approx. Weight 9 lbs

Square pole vertical tenon mounting bracket single tenon. Internal steel pole top mount to tenon adapter. Slips into 5" square metal pole. Constructed of welded steel, powder-coated architectural dark bronze finish. The square base internal tenon mount, is designed to slip into a standard 5" square, non-tapered steel or aluminum pole. All of our mounting brackets are stock items and normally ship in 1-2 business days. If ordering with fixtures, brackets normally ship with fixtures.
Reviews